Mordovshchik shipyard
The history of shipyard started in 1907 when the Committee of Kolomna machine factory with a strong shipbuilding industry received large orders for the construction of oil barges. The managing board decided to create a new shipyard which would be close to Kulebaki factory, the main metallurgical base whose owner was the Committee.
One more circumstance attracted the factory owners: there was no need to transfer large amounts of metal from Kulebaki to Kolomna over Oka river if use shipyard.
The place for the yard was chosen near the existing railway Kulebaki-Lipna. This area was called Mordovschik and it was located beside the village of Lipna.
Mordovschik was located approximately 26 miles from Kulebaki, 8 miles from Murom, on the territory of the Lipna district of Murom County in Vladimir province. Planning of construction in Mordovschik was initiated in summer 1907. In order to lift the vessels from staples they made a special pit in order to ensure the spring floods would lift the barge and then would transfer them over Oka river.
First barges constructed by the shipyard in Mordovshchik had the names "Ekaterina Velikaya", "Olga Premudraya" and "Jaroslavna".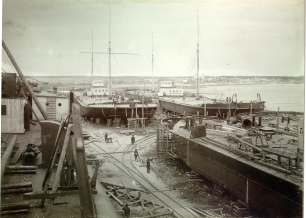 Pioneer of large-capacity welded shipbuilding
By 1912 the shipyard had become a basic supplier of river barges for the Volga Basin. Along with construction of barges, tanks, bridges and caissons they organized the manufacture of locomotive tender tanks, railway tanks and mine pipes.
Before revolution Mordovshchik shipyard had constructed more than 60 ships with capacity over 200 thousand tons. Among these ships barges numbered more than 30 pcs, dump scows as well as passengers ships, tugs and schooner - more than 20 pcs.
The shipyard developed and was filled with new equipment. Mordovshchik shipyard became a The shipyard developed and was filled with new equipment. Mordovshchik shipyard became a pioneer of large-capacity welded shipbuilding.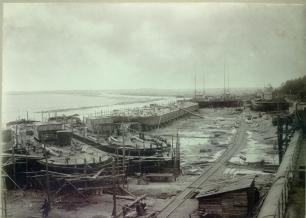 Step from riveting to welding
In June 1935 a fully welded barge "Komsomolka Sudoplatova" with carrying capacity of 6000 tons was constructed there and this was a major step from riveting to welding. The shipyard has proved that it could start a construction of completely welded ships without restriction in their sizes and purposes.
Mordovshchik shipyard provided 14 self-propelled and 125 nonself-propelled ships with capacity about 450 000 tons for sea and river fleet at the period of 1928-1940.
In the first years since the end of the war industrial capacity of the yard increased noteworthily. The shipyard put in commission new shops, arranged some new equipment, developed new methods of welding and applied principal new technologies connected with shipbuilding and launching.
"Volga - Don" project
With help of simulation equipment delivery trials of power plants for river and sea going ships had been arranged in the shipyard harbor since 1963.
In a short time from the beginning of reconstruction in 50's the shipyard made a big step in its progress that allowed to pass to the decision of essentially new problems.
Since 1960 the shipyard began the construction of river ships type "Volga - Don": dry-cargo carriers with 5300 tons capacity aimed at mass and general goods shipment of 507 project which had a state quality mark.
As time went on, the project had undergone major changes, ships of type "Volga - Don" were modified. They differed from the previous one with new hull construction, ship systems, completed equipment. In general the shipyard built more than 175 ships of type "Volga - Don" and "Volgsky". This number includes 21 composite ships consisting of a leading section and pushed non-propelled section with capacity 10400 tons.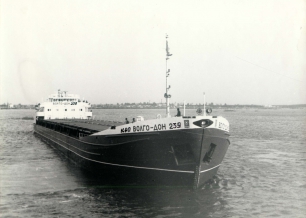 Serial shipbuilding for the entire country
In 1977 – 1988 it was built 12 container ships capacity 5300 tons of the project 1588 (type "Vasiliy Shukshin") and 11 container ships capacity 4900 tons of the project 15881 (type "Vitaliy Diakhonov"). In 1974 they built the ship "Serebrianka" intended for radioactive water collection under project 1591.
In 1982 the factory was awarded by Order of the Red Banner of Labour.
Among other things the shipyard produced several series of ships intended for navigation by Dunai, Azov, Sakhalin, Kamchatka, Far East sea shipping companies as well as River north-western shipping company. They are successfully navigating in different areas of Black sea, Mediterranean, far east basin including Arctic seas.
The shipyard over more than a century history of its existence has built more than one thousand ships ranged from river barges to modern dry-cargo carriers and tankers.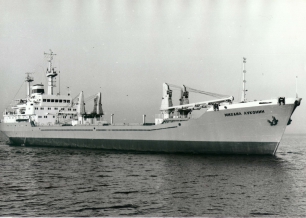 Recent projects
Seven ships under project 00101 type "Rusich" had been built and delivered to the Customer from 2004 till 2008.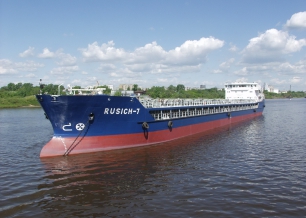 In 2007 one ship of the project 006RSD02 was successfully completed for the Customer Tanais Marine Group Ltd.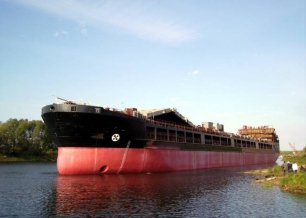 In 2010 the following ships were delivered to the Customers:

- 3 tankers "PRIMEMAX" under a project 00216, deadweight 6600 tons, by the request of Malasian "AET" intended for petrol transfer in the Caspian Sea from drilling rig to pipelines;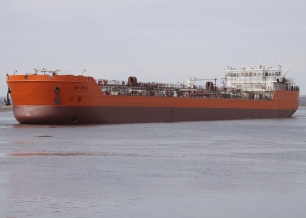 Fleet for UCL Holding
​During the period from 2011 to 2016 the shipyard has built:
- 10 dry cargo vessels under a project RSD44 for Volga Shipping Company, 8 of them were delivered in 2011 and 2 others – in 2012;
12 tankers under a project RST27 for B.F.Tanker-Invest Company,5 of them were delivered in 2012 and 7 others – in 2013;
7 Combination platform ship/tankers under a project RST54 and 2 tankers under a project RST 27 for B.F.Tanker Company.
3 work boats of ice class under a project ST23WI for FSUE "Rosmorport";
multi-purpose bunker with skimmer system under a project 92800 for Tuapse Trade Port.
1 Fire-fighting tug under a project TG-17 for Rosmorrechflot (Federal Agency for Marine and River Transport).
1 passenger-carrying launch under a project 21270 ordered by the Russian Defence Ministry
Along with shipbuilding the shipyard developed a construction of bridges. This company is the only one manufacturer of pontoon bridges intended for the Russian Defense Ministry as well as for civil purposes.
Start up of bridge building
Since autumn 1911 Mordovshchik shipyard included bridge manufacture in its scope of production. At that time the factory constructed the trusses for the following railways: Volgo-Bugulminskaya, Moscovsko-Kazanskaya, Troizkaya, Zabaikalskaya, Semirechenskaya, Jitomirskaya and others.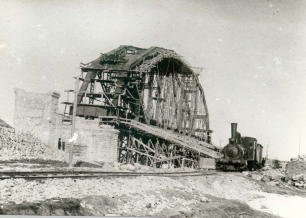 Pontoon parks construction
Archive documents indicate that the company began the construction of pontoon complexes in 1933.
Deputy Head of heavy equipment industry said in his report that the shipyard received the orders to the production of pontoon bridges from Kolomensk machine factory when the development of bridge production was rather problematic there.
For a period of 3 years it was manufactured 25 pcs of pontoon complexes N2P, 132 motorboats SP-19 for pontoon complexes, metal carriers and parts for mounting and completes for 12 pontoon complexes NLP.
On the basis of interplant cooperation the shipyard participated in the production of light pontoon complex NLP adopted at the Red Army in the end of 1935. Up to the beginning of the Great Patriotic War pontoon bridges NLP were considered to be some of the best light complexes and possessed higher performance in comparison with foreign complexes.
Shipyard produced pontoon parks participated in the Great Patriotic War, provided the ferry for our armed forces and showed just their best side.
A new pontoon park N2P was tested in 1939 during the fights with Japan invaders on the Khalkhin-Gol.
During the war (1941-1945) the shipyard produced a wide range of defense products including 86 pontoon parks N2P, 10 pontoon parks TMP, 162 motor boats for pontoon parks SP-19.
The largest construction of pontoons and pontoon bridges
Since the end of the war the shipyard became the largest company specialized in the field of pontoons and pontoon bridges manufacture in the south-west region of Nizhniy Novgorod region
There are the types of floating structures supplied by the shipyard in national MOD in previous years:
heavy pontoon complex TPC (accepted for support of Engineering Corps in 1950)
pontoon-bridge park PBP (was accepted in 1960)
upgraded pontoon complex PMP-М (serial production since 1980)
special pontoon complex PPS-84
pontoon complex PP-91.
At the present day the shipyard is engaged in construction of mobile pontoon parks PP-91 which constitutes bridges with capacity 60 tons/120 tons and travel width of 6,5m/13,5m and ferries with capacity up to 360 tons.
Civil pontoon complexes are used in the far Northern towns such as Urengoy, Nadym, Tarko-Sale, Pangoda, in Ryazan region on Oka and Tsna rivers, India and United Arab Emirates.
In 2014 the pontoon park PP-91 was successfully completed and delivered to the Customer Rosoboroneksport.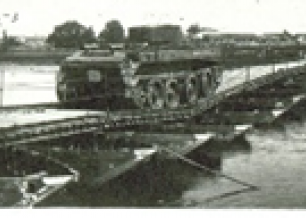 Floating bridges
The shipyard has a wide experience in the construction of pontoon motorway bridges. In general 11 pontoon bridges were built and are successfully operated at the moment, e.g.:
| | |
| --- | --- |
| Pontoon bridge across Oka river – Murom, Vladimir region | 1981 |
| Pontoon bridge across Oka river – Pavlovo district, Nizhniy Novgorod region | 1990 |
| Pontoon bridge – Klishino Oserskiy district, Kirov region | 1991 |
| Pontoon bridge across Luza river – Krasavino, Kirov region | 1992 |
| Pontoon bridge across Klyazma river – Gorohovets district, Vladimir region | 1993 |
| Pontoon bridge across Irtish river - Semipalatinsk | 1993 |
| Pontoon bridge across Sura river – Pilninsk district, Nizhniy Novgorod region 1999 | 1999 |
| Pontoon bridge across Belaya river - Birsk | 2000 |
| Pontoon bridge across Ufa river – village Karaidel, the Republic of Bashkortostan | 2001 |
| Cable-stayed bridge across Oka river – Murom, Vladimir region | 2002 |
| Pontoon bridge across Bolshaya Kheta river for CJSC Vankorneft | 2011 |
Cable-stayed bridge in Murom
In 2006 Okskaya sudoverf produced metal constructions for cable-stayed bridge over Oka river in Murom district, Vladimir region. Total length of the bridge is about 1400m. Roadway is hold on stay cables which are fixed on three main bridge footings made of reinforced concrete with height of 90 m. Two side footings are standing on the banks and the central one – is in the river.